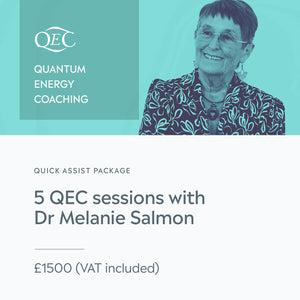 See Dr Salmon sooner by reserve a block of 5 sessions over 5 weeks. 
5 sessions is the optimal length needed for most people to experience deep, lasting changes - no matter the issue, or how long you have been living with it.
Package Dates:
Thursdays in June 2022, 4pm - 5:30pm
1 session per week for 5 weeks.
Booking Terms and Conditions:
You must commit to the full treatment package of 5 QEC sessions. You will be entitled to a full refund up to 24 hours before the first session. If you cancel after this time, no refund will be given. Dr Salmon reserves the right to cancel or change the booking at any time. If this happens, you will be refunded in full for any sessions not yet completed.
The package costs £1500 (VAT included)