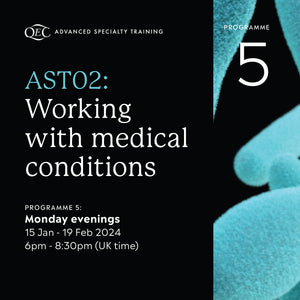 Training Programme 5:

15 January - 19 February 2024

Monday evenings, 6pm - 8.30pm (UK time)
Weekly peer practicums
16 participants 
Only available to certified QEC Practitioners
About this training:
This six part training will cover the most important medical conditions that I often see as a QEC practitioner.

I have accessed information over this past decade from a wide variety of sources. My hope is that this shared information, understanding and the application of QEC will lead to better health and happiness for both you and your clients.
About the QEC Advanced Training Series:
These courses are designed to provide deeper and more comprehensive training in complex areas with QEC. Over 5 weeks, Dr Melanie Salmon will share with you the strategies she has developed in response to the changing nature of her personal client work.

The highly specialised nature of each course will leave you feeling confident in your ability to work deeply and effectively in that area. Upon successful completion, you will gain certification - and be listed as such on the new QEC website, to be launched soon.
Please note the following: 
This training course is only available to Quantum Energy Coaching (QEC) Practitioners who have been certified by Dr Melanie Salmon. Please do not register for this course if you are not a certified QEC Practitioner.
This information contained in the QEC Advanced Specialty Training online course is for educational purposes only.

The content is not intended to be a substitute for professional medical advice, diagnosis, or treatment. Always seek the advice of your physician or other qualified health provider with any questions you may have regarding a medical condition. Never disregard professional medical advice or delay in seeking it because of something you have heard in this course.

The views expressed in this course are solely those of Dr Melanie Salmon.
Dr Melanie Salmon and the QEC team cannot be held responsible for any damage caused by the comments and opinions expressed in these videos. Reliance on any information provided by Dr Melanie Salmon is solely at your own risk.