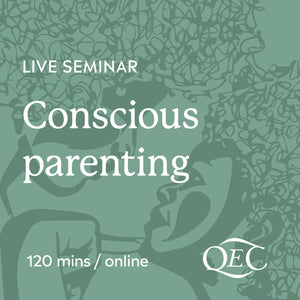 We will look at what it means to 'consciously parent'.
Many clients come to us having experienced dysfunction in their family of origin, yet with the awareness of not wanting to repeat the cycle with their own children. In this seminar we will unpack how to be a conscious parent in three key phases:
a) Pregnancy,
b) Early childhood,
c) School and teenager years
 About this seminar:
This seminar is live and online with Dr Melanie Salmon. 
Date: 22 March 2023
Time: 6 - 8pm (UK time)
Cost: £42 (VAT incl.)
25 places available per seminar.
Meeting place: Online, via  

www.zoom.us 

 

(We will send you an email with the meeting link 24 hours prior to the seminar).
This event is only available to certified QEC practitioners and those in training with Dr Melanie Salmon.
Note:
This live, online seminar is only available to certified Quantum Energy Coaching (QEC) Practitioners, and those in training. Please do not register for this event if you are neither of these.

The information contained in this QEC live seminar is for educational purposes only.

The content is not intended to be a substitute for professional medical advice, diagnosis, or treatment. Always seek the advice of your physician or other qualified health provider with any questions you may have regarding a medical condition. Never disregard professional medical advice or delay in seeking it because of something you have heard in this course.

The views expressed in this course are solely those of Dr Melanie Salmon. Dr Melanie Salmon and the QEC team cannot be held responsible for any damage caused by the comments and opinions expressed in this event. Reliance on any information provided by Dr Melanie Salmon is solely at your own risk.